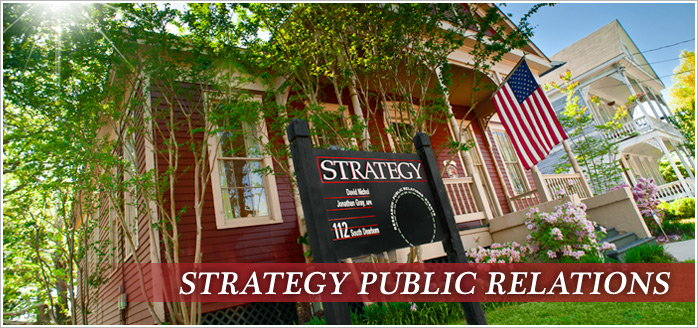 Arriving at a website is like entering someone's home. You walk around, get a feel for the people who live there.
So, welcome to our home.
Let us first introduce ourselves and quickly move on. Strategy is a leading Alabama public relations firm with influence throughout the southeast. Our partners are Alabama's top public relations experts with in-depth experience in a variety of industries including manufacturing, politics, energy, telecommunications, retail and entertainment.
During our careers, we've done it all. Special events, product promotions, political campaigns, even a super bowl half time show. We specialize in making a difference helping you stand out, blend in or even disappear. We are regional experts on crisis communications and media training. If you find yourself in trouble, we're there to help you just as we have others. Just check our case studies.
So, welcome, make yourself at home, and stay a while if you'd like.

"I would like to say that I have had the pleasure to work with Strategy and for over ten years now. I can honestly say I have never worked with a group that has more innovative and creative ideas. "
Brad Kimbro
Director of Member Services
Wiregrass Electric Cooperative
"My recommendation of Strategy above many other firms is largely based on the fact that you know you are getting the talents of Jon Gray and Dave Nichol who personally handle all projects. I am willing to share my experiences with Strategy with anyone who is interested."
Verne Kennedy, Ph.D.
Market Research Insight
"Strategy combines creative thinking and strategic communication skills to address complex and challenging issues that plague public and private sector entities. They make it look simple!"
Ashley Cousins
Principal
Ashley Cousins Environmental Strategies & Solutions
"I have been very pleased with the work that Strategy, Inc. has done. Strategy has been willing to taken on the most difficult of assignments and has excelled masterfully with each one. I appreciate and applaud the work."
Dr. Faron L. Hollinger
Former Superintendent
Baldwin County Public Schools
"Media trainers are a dime a dozen. The real proof is how well they do for you during an actual emergency. The only reason I'm here to write this and the only reason our electric cooperative is on solid ground is because of Strategy Public Relations."
Terry Wilhite
Communications Director
Pioneer Electric Cooperative